Which Atkins Diet Plan Is Right For Your Patient?
Simplicity, versatility and sustainability are essential for any dietary program to succeed long term. Atkins meets all three challenges.
Simplicity. The key to slimming down and enhancing one's health is to burn more body fat. Restrict sugars and other refined carbohydrates and fat—including body fat—become the primary source of energy.
Versatility. Although Atkins is comprised of four progressively liberal phases, some patients may be able to start in Phase 2 or Phase 3. Additionally, people can eat lean cuts of meat and poultry if they prefer; honor their own culinary heritage; and choose when to begin a fitness program and which activities to pursue. Finally, when it comes to maintaining their new weight, individuals can select one of the two approaches to Lifetime Maintenance.
Sustainability. The four-phase program trains individuals to find their tolerance for carbohydrates so they can maintain their weight and improved health indicators, making yo-yo dieting a thing of the past.
For details on how to do Atkins, see:
ATKINS DIET OVERVIEW
Learn how the Atkins Diet can help your patients lose and maintain their weight on a low-carb lifestyle.
Learn More

»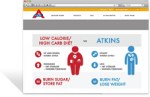 Atkins 40 Overview
With the Atkins 40 Plan, you can enjoy a full range of food options from every food group—carbohydrates, protein and fats—while still losing weight and feeling satisfied, never hungry!
Learn More

»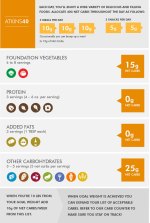 Atkins 20 Overview
This is the original Atkins diet, that millions of people have lost weight on over the years. Not only is it an effective diet plan, but it's simple, too! When carb intake is controlled, fat is burned.
Learn More

»