IN YOUR PRACTICE
Learn about the principles of the Atkins Diet, and how the diet can safely and effectively help your patients lose weight and maintain weight. Also, order materials to share with colleagues and patients about the Atkins Diet.
HOW TO DO ATKINS
Learn how the Atkins Diet can help your patients lose and maintain weight on a low-carb lifestyle.
Learn More

»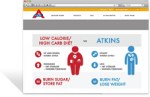 Download Materials
Download materials to educate your patients and colleagues about the Atkins Diet.
Learn More

»